As promised, here is a Birdseye of one of the EE lands:
Like a number of you, I was intrigued by the idea of a land built around the Haunted Mansion mythos. With media like 'Downtown Abbey' so popular at the moment, I think the idea of an eerie old estate to explore would resonate with people.
GATEHOUSE
Most great estates have the gatehouse. Built of the same granite as the rest of Bloodmere, the Gatehouse would be both light dining (e.g., ice cream window) as well as the place to pick up Mystery Maps for the Cryptic Adventure.
CEMETERY
The grounds of Bloodmere, once meticulously cared for, have fallen into some neglect. Some trees & grasses have gone wild, while others remain more cultivated. The grounds slope downward from the Manor to the river, and along the river are the extensive gardens & the family cemetery. This is where a 'magiquest' type adventure game would take place. A number of different Mystery Maps (for variation) could be obtained, and by piecing together clues hidden in the various statues and mausoleums (some with underground passages), frightening audio & physical effects would be triggered.
BLOODMERE MANOR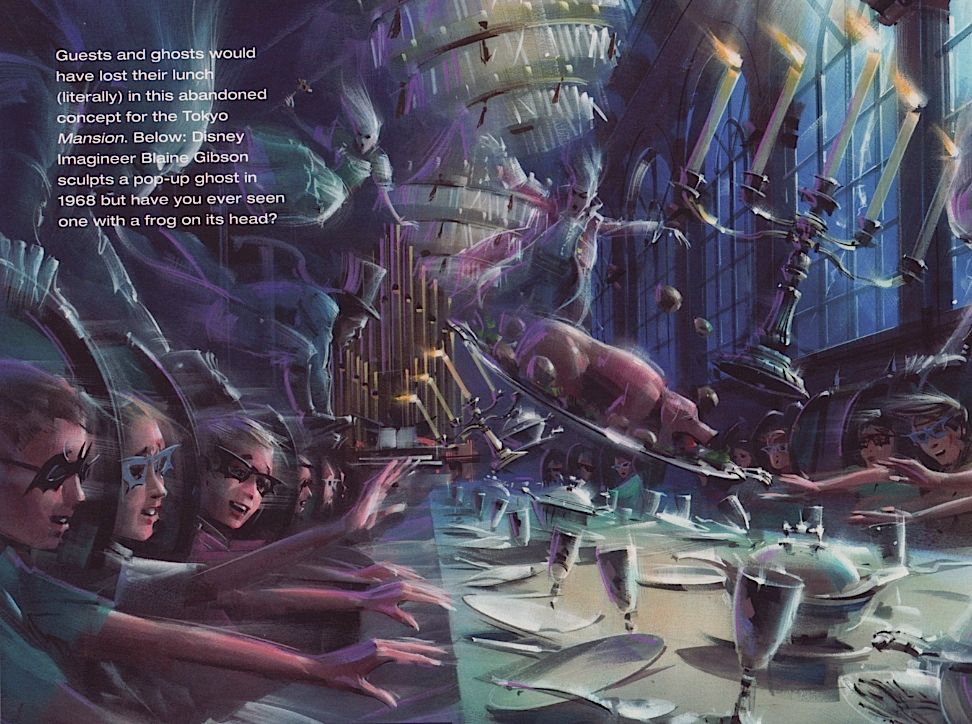 The land's main attraction is an all-new version of the Haunted Mansion… perhaps a 3-D LPS ride as once envisioned for Tokyo Disneyland. Sam had an idea in mind that centered on the murderous bride from the actual HM, maybe he can elaborate in the comments section.
MEMORIAL CAROUSEL
I imagined the land's carousel to be a large, domed marble mausoleum. The steeds could be various gargoyles or dark creatures or 'stone' tributes to generations of the family's great horses.
TRAIN STATION
The train station where visitors arrive (or depart as fast as possible) would be appropriately themed in a gothic manor.
SERVANTS QUARTERS
The final section of the Bloodmere would be the building(s) that house all the staff & their families who tend the estate. This would house a large quick service dining facility, a retail shop and restrooms.
***
After finishing this drawing, I realized how much it has in common with HK's forthcoming Mystic Point (my subconscious?)… the Manor, the walkthrough, the nearby train, etc. While MP is more of a collector/museum vibe, this area is a more morbid, frightening, ghost-story approach.