Take one part Discovery Cove, one part Sea World, two parts EPCOT and three parts DisneySea, mix them together and you have my vision of the proposed DisneySea park that was to be a part of the massive Port Disney development proposed for Long Beach. Others have told the story of Port Disney better than I could hope to (I recommend
ProgressCity
for a very in-depth article with lots of big photos), so the focus of this post will be my version of the DisneySea park.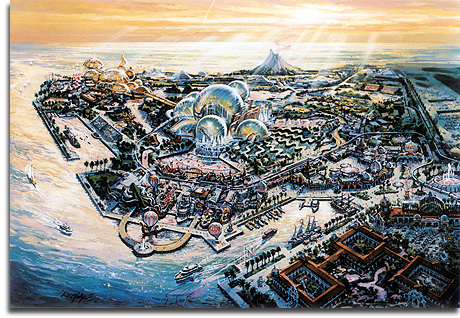 I based this drawing off the preliminary site plans (which had very little detail of the park itself), the write-ups and – mostly – the big overview concept art. As you will see, the front of the park follows the artwork pretty closely. As things moved toward the horizon in the painting and become less discernable, I had to employ a lot of creative license.
WORLDPORT: The entry plaza and land takes the form of a variety of seaside pavilions from the 1880-1930 time period. The monorail connects the park to the multiple hotels and other venues of the much larger Port Disney property.
PORT HOTEL: The hotel closest to the theme park is in the Spanish Mission/Hacienda style with lots of landscaping and water features.
OCEANA: The famed giant aquarium spheres would have been an engineering marvel – and likely far too expensive to ever build – I imagine this facility housing a dark ride (maybe the one originally planned for The Living Seas as well as an FX theater and levels of exhibits. The monorail station is within the complex. One of the more quixotic elements of the park are the wavy, semi-elevated platforms that lead up to the Spheres. I'm not exactly sure what the intent was, but I've assumed they are futuristic aqueducts above a tide pool-like garden/trail zone.
FUTURE RESEARCH STATION: This is an extension of Oceana, hosting actual marine scientific research as well as arctic and reef habitats. I put in a future-themed undersea simulator, as well.
PACIFICA PARK: This area (my name) is featured clearly in the art but never mentioned in all the write-ups I've seen. I imagine this to be an area that competes with Sea World, with an aquatic stunt theatre and a marine mammal aquatic theatre. There is a large surf pool (bring your bathing suit) as well as parks for relaxing/picnicking.
VENTURE REEFS: This area is similar in concept to Discovery Bay, devoted to very close encounters with all sorts of sea creatures, including separate lagoons for dolphins, manatees, and rays. The highlight would be the cage dive with man-eating sharks.
FLEETS OF FANTASY: This area houses the kid-friendly rides aboard a variety of vessels from different regions and time-periods. Interestingly, in the most recent WDI book there is an illustration of this concept that was revived for a proposed expansion of Tokyo DisneySea.
HEROES HARBOR: This area is about legends of the sea – Middle Eastern, Ancient Greek, Norse, etc. – so it is a mesh of these architectural and boat-building styles. Sinbad is a kid-friendly boat ride (as opened with TDS in 2001) while the Ulysses attraction is a little more frightening (PotC-like with drops).
PIRATE LAGOON: The actual park was to have a Pirates area that was supposed to be "Tom Sawyer Island x 10." Now I'm a big fan of TSI, so since WDI made so bold a claim, I expanded the Pirate area to an entire land. There is the civilized, colonial port with a Royal Navy vessel docked offshore. Across the lagoon is the dilapidated pirate fortress holding a new attraction in the PotC universe – one using LPS-guided "boats" sitting in a few inches of water – making it more E-ticket darkride rather than an indoor flume. The Queen Anne's Revenge is anchored in a hidden alcove.
MYSTERIOUS ISLAND: The final land takes Nemo/Vulcania mythology and throws in some Atlantis in.

***
So this park, like my WestCOT drawing, is part puzzle-piecing, part conjecture, mostly just fun,wishful thinking.