A little while back I received a request to draw a park based on this drawing by Ludovic Lefort:
While a drawing like this is a little too rough for me to translate, I decided to take this park on because there were some interesting features in his written description. Ludovic's first language is French so there was a significant communication barrier, and my final drawing reflects my variation on his idea, rather than a straight translation of his park:
AMERICAN SEAPORT: Ludovic wanted a typical, geometrical Main Street, but with a yesteryear Rhode Island/Mytic, CT theme rather than Middle America. I took his idea further and opened Main Street into a bigger version of DisneySea's Cape Cod, influenced by Melville, Pete's Dragon, Nantucket, etc.
There is ride similar in scale to PotC, but based on northeastern nautical legends and folklore.
BIG RIVER BEND: Continuing with the idea of new twists on classic Disney lands, this Frontierland reflects not the frontier of mesas & cowboys, but the more civilized midwest and south (e.g. Mark Twain's Mississippi).
COUNTRY CIRCUS: I liked the idea of separating the American-set story of Dumbo from the pre-20th c. European fairytales of Fantasyland.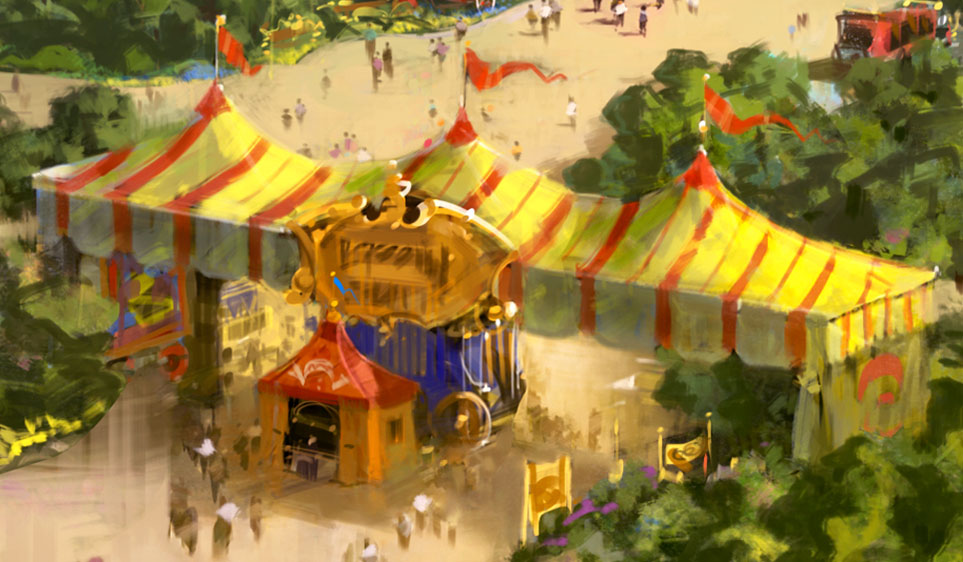 image from progresscityusa.com
ADVENTURE PASS: Adventureland here is miniaturized, reflecting South Pacific and Himilayan exoticsm that may be appropriate for the Australian market. The train passes through a lengthy JungleCruise-style show scene (ruined temple, Elephant grotto, orangutans). Everest is designed so that the sides facing Adventure Pass resemble the Himalayas while the side facing Fantasyland resembles an Alpine peak.
FANTASYLAND: Fantasyland is buffered by a number of wooded exploration zones. A castle based on The Beast's (with restaurant) is the park icon. Bambi's Woods is a transition area from the American Big River to the animation-dominated FL. The Teacups are found within Alice's Labyrinth. As mentioned above, the Alpine side of Everest serves as the backdrop to the regionally-appropriate dark rides of Pinocchio and Snow White. The Pixie Hollow area once planned for MK is also here:
TOONTOWN: The two new attractions in this version of Toontown include a dry-land Aquatopia-like ride (Motor Mania) as well as a major motorbike launch coaster themed to Darkwing Duck.
HOLLYWOOD: Home to both a light look at Disney & Pixar Animation as well as the darker side of classic Tinsel-town. One can imagine the possibilities of a Golden Age Hollywood-themed Haunted Mansion, which can connect in subtle ways to the ToT mythology.
Desmond Villa from 'Sunset Boulevard'
TOMORROWLAND: Here, Tomorrowland is a fantasy Spaceport, with Star Tous, Skytopia (hovercrafts), a spinner with mini-Treasure Planet space galleons, and a Space Mountain with a Black Hole story overlay.
DISCOVERY EXPOSITION: The final land I based on the rivet & iron look of the famous Paris Expositions of the 19th Century. The attractions are heavily influenced by Jules Verne (e.g. 20K Under the Sea from DisneySea with a Nautilus walkthrough as its queue, an Around the World in 80 Days in the style of IASW, a steampunk version of Dinosaur (aka Countdown to Extinction, a verions of Soarin')... a lot of heavy hitters in the bottom of the line-up.
***
So there is another variation on a theme of a Disneyland-style park. As mentioned in the beginning, this was based on a reader submission, with a great deal of personal interpretation. I am always open to guest submissions, although I can't promise that I'll be able to draw them (a decently-scaled, cleanly drawn plan goes a long way, however)