Combining the brilliant rockwork of Big Thunder Mountain with the woodland atmosphere of Tom Sawyer Island and the fun of a water park, River Country was an extraordinary place. Until it was abandoned and left to rot, it was one of the three best-themed water parks in the world (if you know of any others as well-themed, aside from Typhoon Lagoon & Blizzard Beach, please let me know). Reviewing an archive of photos to piece together this site plan reinforced this opinion – from its old fashioned lamp posts & railings to the dozens of small rivulets and pathways, this was my kind of park, conjuring boyhood adventures in the woods.
Like so many other treasures first created, then despoiled, by the Disney Company, here at IdealBuildout River Country lives on. My aim was to expand River Country to put it on the same scale as Typhoon Lagoon & Blizzard Beach - for as wonderful as the park was in theme, it was a shadow of its sisters in the slide department. This would give each WDW Resort Area its own unique, full-scale water park – alleviating crowds at all three.
The park's theme is one-part Old West, one-part Native America, one-part Tom & Huck's ol' swimmin' hole. The southern core of the park consists of what once was. LostEpcot.com has an excellent & thorough photographic archive of the park,
HERE
.
The expanded area lies north of the backstage access road. One can get there by passing through a tunnel on foot or wading through the shallow Crystal Springs River, based on the Virgin River walk at Zion National Park.
Discover Zion, UT region here: http://www.dostgeorge.com/
Once in this new "wilderness", guests will find three new peaks, using similar rockwork to the original. These mountains contain lengthy tube & body slides, including a large family raft ride similar to Teamboat Springs, that take riders through the cypress & pine forest. Many of the slides pass through cavern sections – some with interior effects like snoring bears, dripping stalactites or shaking rocks.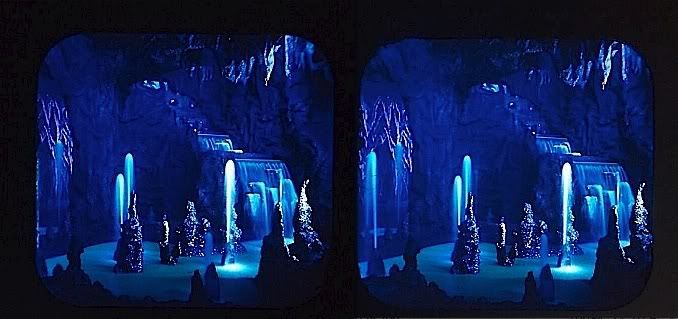 credit: http://micechat.com/forums/vintage-photos-trip-reports/95694-rainbow-caverns-viewmaster-pic.html
Pathways under the mountains are somewhat eerie, similar to the caverns of Tom Sawyer Island. There is an old Cider Mill, smelling of apples, that houses three slides.
What I've always found very scary – even moreso than tall speed slides, is high cliff jumping. Here, there are three levels from which to jump into a grotto, from heights of 25, 35 and for thrill-seekers, 45 feet.
The flagship slide of the park is Cherokee Caverns, a pair of fast, long & disorienting slides that travel entirely under a mountain in total darkness (with a few light-based SFX).
A unique thing about this idealized River Country is that it has plenty of dryland activities, from pony rides to nature trails to a live music stage and Indian camp. There are a number of new dining facilities as well as the old cook-out pavilion for those campers who would like to grill for themselves.
While the abandonment of River Country is somewhat fascinating – watching nature reclaim a Disney park – I do lament the loss of this unique & wonderful place. It seems it will now be turned into a DVC resort, continuing the march of hotel development on the banks of Bay Lake.
***
If you enjoy these plans/posts, please take a second to leave a quick or in-depth comment or start a discussion. Cheers and Happy New Year!